Hollande? Only time will tell…
by Carisa Frisby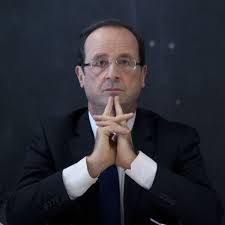 French President Francois Hollande is the newest president to have rumors of an affair swirling about him. As recently as Friday January 17, Hollande has had the French tabloid magazine, "The Closer" made allegations that Hollande has been carrying on a 2 year affair with French actress Julie Gayet. Reports say that the couple used his second apartment for romantic trysts. These rumors emerge as Hollande's partner, Valerie Trierweiler, is admitted to the hospital.
While Gayet is suing the tabloid for invasion of privacy it appears neither party is confirming nor denying the allegations. People of power are no strangers to affairs and reports of them. Take, for example, John F. Kennedy who was rumored to have had affairs with several women; but most notably, actress Marilyn Monroe. From Washington D.C. to Hollywood California, rumors buzzed of an affair between the President and the actress. Spurred on by her seductive singing of "Happy Birthday Mr. President" in 1962, even friends of the two have come out saying Monroe was out to win the affections of the President and ultimately become First Lady. However that was not to be, later that year, Monroe was found dead from an overdose of barbiturates and alcohol, though her demise has been blamed on her affair with the President and his connections with the Mafia.
Another famous American Presidential sex scandal is that of President Bill Clinton and Intern Monica Lewinsky. The 21 year old became involved with the President in 1995. A month after the affair begins; Lewinsky is moved from an unpaid intern into a paid position with the Office of Legislative Affairs. The relationship lasted several years but Lewinsky's and Clinton's cover was blown by Linda Tripp, whom Lewinsky had confided in. Initially both parties denied the claims, the President even under oath made denials. Later both admitted to the affair. President Clinton narrowly avoided impeachment while Lewinsky, after years of trying to shake the scandal, moved to London England to pursue a degree in social psychology.
American Presidents are not the only ones to stir up sex scandals and affair rumors. Most recently Italy's Prime Minister, Silvio Berlusconi, was accused of several affairs and sex with a minor. In 2011 Berlusconi was accused of paying for sex with 17- year old Moroccan Belly Dancer, Karima El Mahroug, known as "Ruby the heart stealer." Berlusconi often made jokes of his sexual conquests which ultimately cost him his wife, who divorced him in 2009. Berlusconi's political career was wracked with controversy. In June 2013 he was sentenced to 7 years imprisonment for the paid affair with a minor as well as abuse of office. He is currently appealing and will not have to serve time until the appeals have been exhausted.
While Hollande's affair may not result in imprisonment or death, it may result in Ms. Trierweiler leaving him, or worse, his already struggling political career not being able to make a recovery. History does not leave a clear indication of what will happen; only time will tell.